In the fight against cancer, patients are never alone at USA Oncology Centers. From diagnosis to treatment, patients are surrounded by a team of highly skilled professionals who practice in state-of-the-art facilities.
As part of the patient multidisciplinary team, we provide non-surgical and minimally invasive procedures performed by highly skilled and internationally recognized interventional radiologists. We offer cutting-edge image-guided treatment options for both primary and secondary liver cancer that are extremely precise and offer promising results as well as an improved quality of life.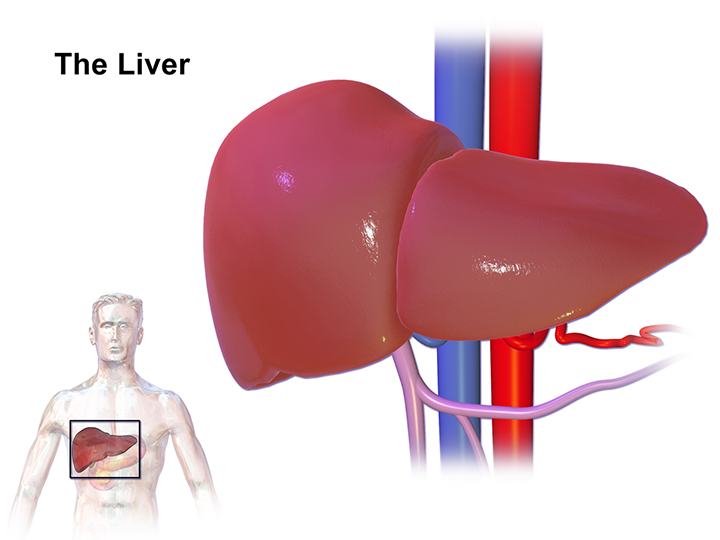 Image credit: Blausen Medical Communications, Inc.
What Is Liver Cancer?
There are two types of liver cancer, primary liver cancer and secondary liver cancer (liver metastases). Unlike secondary cancers which metastasize, that is, they start in another part of the body and spread to the liver, primary liver cancer originates from cells inside the liver. The two most common forms of primary liver cancer are:
Hepatocellular carcinoma (also called hepatoma or HCC)
Cholangiocarcinoma (a form of bile duct cancer also referred as IHC)
Today, many liver cancer tumors are treatable with the possibility for durable, disease-free survival. The most common cause of secondary liver cancer results from the spread of cancer to the liver from colorectal cancer.
If the disease is isolated to the liver, then patients may be candidates for liver-directed therapies such as Radioembolization (Y-90) or Transarterial Chemoembolization (TACE). Such treatments are extremely precise because they are performed directly under image guidance.
Liver Cancer Symptoms and Signs
Liver cancer is sometimes found on an ultrasound screening or during a routine test such as a CT or MRI scan when patients are still without symptoms. In other cases, patients develop abdominal pain and evidence of liver dysfunction such as:
Jaundice (yellowing of the skin or eyes)
Weight loss
Fluid accumulation/swelling in the soft tissues
Other signs of liver cancer that may be noted on radiologic imaging include:
Presence of a liver mass
Bile duct obstruction
Advanced, Personalized Treatment for Liver Cancer
We specialize in targeted non-surgical and minimally invasive image-guided procedures that help improve a patient's overall survival by destroying the tumor inside the liver and preventing tumor progression.
In addition, because the treatment is precise and administered locoregionally where the tumor is located within the liver, the rest of the body remains unaffected improving the quality of life of patients. We work extremely closely with our patients' existing multidisciplinary team of physicians to ensure the best possible quality of care and outcome for all patients.
In doing so, we can guarantee the most advanced treatment options available within a single network of coordinated care. Favorable outcomes include:
Extends overall survival
Destroys the cancer inside the liver
Increases the time it takes for the cancer to grow (time to tumor progression)
Stops liver tumors from growing or causes them to shrink.
Treatment Options Available
Minimally invasive treatments for primary and secondary liver cancer include:
Radioembolization or Y-90 Selective Internal Radiation Therapy — Y-90 SIRT targets liver tumors directly with high doses of radiation directly to the tumor while sparing healthy tissue thereby reducing the risk of injury to the liver. Using the liver's unique blood supply, millions of tiny microspheres loaded with Yttrium-90 (Y-90) are released in a targeted and precise fashion into the blood vessels that supply the blood flow to the tumor ultimately destroying the cancer.
Transarterial Chemoembolization/TACE — TACE combines the local delivery of chemotherapy with a non-surgical procedure called embolization to deliver a high concentration of anti-cancer drugs directly into the tumor, without exposing the entire body to the effects of those drugs.
Venous Access — Central venous access devices (CVADs) are used to provide an access point to enable the administration of fluids, medication and other therapies into the bloodstream. Our team of interventional radiologists are experts in these minimally invasive procedures for tunneled venous catheters and ports for chemotherapy.
Cancer Care Treatment at USA Oncology Centers
Whether you have questions about your current cancer regimen, or want to learn more about our targeted, non -surgical, office-based liver cancer treatments, we are here to answer your questions. Once you schedule your appointment, you will meet with one of our oncology specialists who will evaluate your condition and offer the best treatment option. Our staff will be available throughout the procedure and recovery process to answer all your questions.
If would like to learn more, use our online scheduler or call 855.870.4747.
Referring Physicians
If you would like to consult with an interventional radiologist, please contact us at 855.870.4747.
We're here for you
We believe that the patient-doctor relationship is at the core of medicine. We're here to help you through your cancer journey - emotionally, physically and financially.
Schedule Online